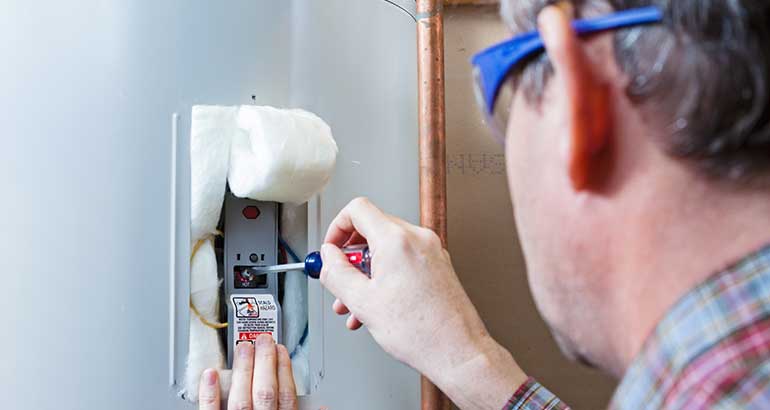 Losing hot water when you need it is one of the most frustrating plumbing issues a homeowner can encounter. We rely on these appliances every single day, and it's important to keep them running efficiently. At C. Woods Company, we have decades of experience with water heater services in Tyler, TX, and we have made the transition to tankless water heaters, too. If you've been having problems with your hot water, give us a call today. We serve both residential and commercial customers.
Learn what others in your area have been saying about our services when you visit our reviews page.
Signs You Need a New Water Heater
Most modern water heaters will last for up to 15 years, but once we get past 10 years of age, you should start considering the possibility of a water heater replacement. If your water heater is older and you need frequent repairs to keep it running smoothly, a new unit is likely a good idea. Some signs that you need either water heater repair or replacement include stained, discolored water, cold water instead of hot, loud noises during operation and high water bills.
Benefits of Switching to Tankless
If you've had enough of waiting for your water tank to heat the water, there is the option of a tankless water heater. These systems heat the water as it is requested, which is why they are also known as "on demand" water heaters. Tankless water heaters take up less space and are far more convenient than traditional water heaters.
Find out how you can save on our services by visiting our coupons page now.
Why You Should Choose Our Team
In addition to reliable water heater services, we also provide customers with exceptional customer service. Here are some extras that keep our customers coming back for more.
Expert Service 24/7: Our technicians are available after hours because we know that emergencies happen!
Your Trusted Plumbers Since 1956: Providing high quality plumbing and HVAC services since 1956, we are leaders in our industry.
High Professional Rating: We have an A+ rating with the Better Business Bureau, improving our professional reputation even more.