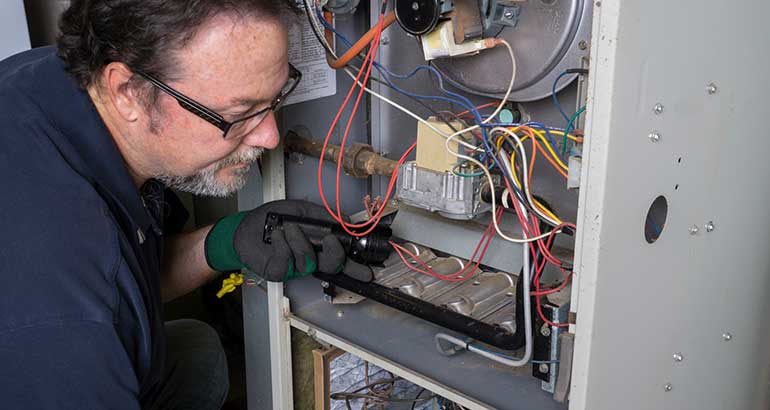 When the cooler winter nights come around, and your thoughts are of staying warm and cozy in your home, a broken furnace will surely ruin your day. Even in Tyler, TX, a malfunctioning furnace is unsettling to homeowners. At C. Woods Company, we have the experience and the skills to get your furnace up and running again in no time. We serve both residential and commercial customers.
The Benefits of Regular Furnace Maintenance
Having your furnace maintained on a regular basis should be a routine every homeowner gets into. When you schedule furnace tune-up just before the heating season comes up, you can feel confident that your furnace will run smoothly and efficiently when you need it most. In a standard furnace tune-up, the technician will change the filter and check for internal problems that could lead to repairs. With a clean bill of health, your indoor air quality will improve and your heating bills may drop.
Don't forget to take a look at our coupons page to access current deals and discounts.
Signs You Need Furnace Repair or Replacement
When your furnace stops working, it may seem as though it just happened on the spur of the moment, but that's rarely the case. Typically, you will see several signs ahead of time, letting you know that furnace repair or replacement is in your future. Some of the most common signs include loud noises coming from your furnace during operation, higher than normal heating bills, low air quality in the house and powering on and off for no reason. If you notice any of these signs, it may be time for repairs or a full furnace replacement.
Time for a New Furnace? Here's How to Tell
Maybe it's been a long time coming, the dreaded moment when your old furnace finally gives out and you have no choice but to replace it. Or perhaps your furnace is less than 10 years old and experiencing problems. In this case, you're left wondering: should I repair or replace?
Generally speaking, if your furnace is between 10-15 years or older, and requires major repairs then replacement makes the most sense. Another reason to replace is if your furnace is no longer able to efficiently heat your home. In this case, installing a new, energy-efficient model an save you money over the long run. A cracked heat exchanger is another reason to replace. At C Woods Company, we understand that it can be a difficult decision to make and that's why we're here or you every step of the way. Contact us and we'll come out and provide you with an honest assessment.
Discover what others in your area have been saying about our range of services when you visit our reviews page today.
Why Choose Us?
At C. Woods Company, we know that our customers appreciate exceptional customer service. That's why we take extra measures to ensure each and every visit we make is one to remember. Here are a few added reasons to choose us as your service provider.
Experts Since 1956: We have been experts in the plumbing and HVAC industry since 1956.
24/7 Emergency Service: We are available 24/7, 365 days a year in case of an emergency.