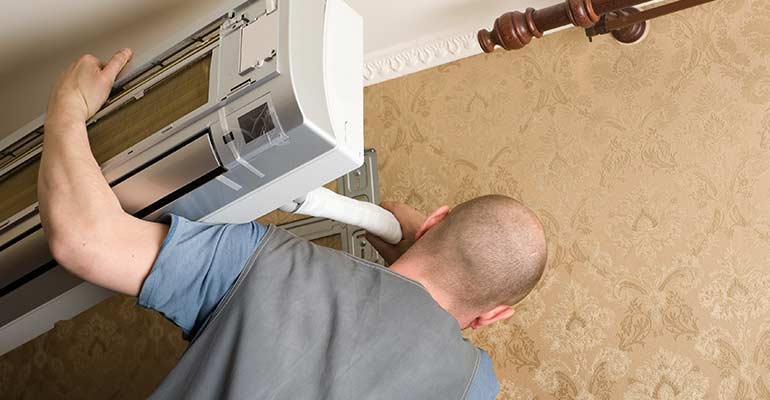 If your current AC system isn't reaching every part of your Tyler, TX home and you need a new solution, a ductless mini split AC system may be the answer. When you decide on ductless mini split air conditioner installation by C. Woods Company, you can have peace of mind knowing your AC troubles are behind you. We serve both residential and commercial customers.
Do you want to know what others in your area think of our services? Visit our reviews page for honest customer feedback now.
What is a Ductless Mini Split AC System?
Ductless mini split AC systems are alternatives to standard air conditioning systems in that they don't use ductwork to circulate cool air through your home. This compact system uses air handlers inside and an outdoor compressor or condenser. Unlike central air conditioning systems, a ductless system doesn't try to push cool air upward from the basement, instead letting it fall naturally from the strategically placed indoor unit on one of the upper floors.
Common Benefits of Ductless Systems
Most homeowners that choose to have a ductless system installed in their home never regret their decision. These units are often called "on demand" air conditioners, and they rarely disappoint. When you decide on a ductless mini split AC system for your home, you will notice a range of benefits, including:
Greater energy efficiency
Quiet, peaceful operation
Small and compact, taking up little space
Fast, easy professional installation
Do you want to save money on your next service from us? Visit our coupons page to discover exciting deals and discounts.
Why You Should Trust Us
At C. Woods Company, we provide our customers with flawless AC services, as well as exceptional customer service. We also offer the following unique features that help set us apart from the competition.
After Hours Service: We're available for emergency service at any hour of the day, 365 days a year.
High BBB Rating: The Better Business Bureau has given us an A+ Rating for the great work we do.
Trusted Experts Since 1956: We have been a trusted name in indoor maintenance services since 1956. We've also been a proud Lennox dealer since the very beginning.