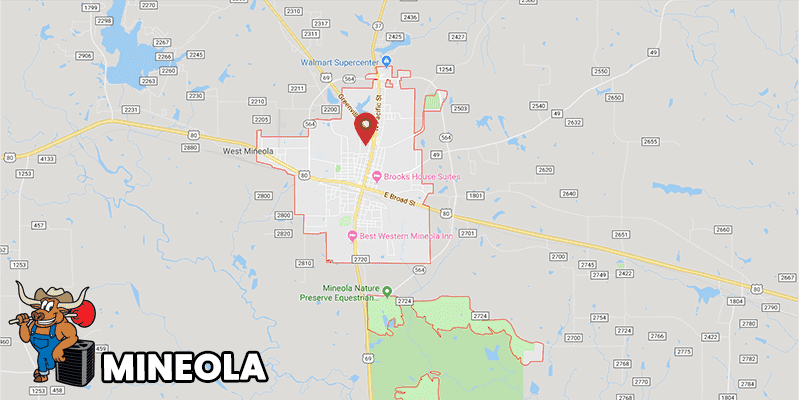 All homeowners have to deal with a broken furnace, damaged AC system or water leak from time to time. What makes the difference between a quick fix and costly damage and repairs is having access to a reputable service provider. At C. Woods Company, we have developed a strong reputation in the Mineola, TX community for providing exceptional plumbing and HVAC services, and even better customer service. We serve both residential and commercial customers.
Discover what your neighbors think of our services when you take a look at our reviews page today.
Trusted Heating & AC Specialists
Both your air conditioner and your heating system consist of complex mechanisms to run efficiently over the long term. If you don't have the required maintenance performed on a regular basis, you'll be faced with decreased efficiency, higher energy bills and more frequent repairs. Some of the signs of a faulty AC or furnace include noisy operation, poor indoor air quality and not reaching the temperature you've set on your thermostat.
If any these signs become apparent in your home, make the call to C. Woods Company and we will set up an appointment for service. If you need something as simple as a filter change, or something as involved as a new furnace or AC, we have the skills and experience to give you what you need.
Local Plumbing & Water Heater Experts
Plumbing issues rarely seem to occur during business hours, which is why we are 24 hr plumbers that will answer your call anytime of the day, 365 days a year. If you have a nagging water leak under the sink, or a pipe has burst and your basement is filling with water, we will be there to provide the solutions you need to rest easy and get your household back in order.
We also provide our customers with dependable water heater repair and installation, and can be counted on when you're only feeling cold water and need it to be hot. A broken water heater shouldn't be taken lightly, and we will provide a full assessment of the situation before we recommend either repair, replacement, or an alternative such as a tankless water heater.
Save money on our range of services by visiting our coupons page for current deals and discounts.
Commercial Plumbing and HVAC Solutions
Whether you are in need of new plumbing installation in your building or you require plumbing or HVAC emergency repair, our expert team can help. At C. Woods Company, we understand the importance of acting fast when it comes to your commercial property's plumbing, heating or cooling needs. Even minor inconveniences such as a clogged toilet can lead to larger problems if left unchecked. Other issues such as a broken AC in the middle of summer can be not only uncomfortable, but unsafe as well.
We know that any disruption can affect your bottom line, which is why we are available around the clock to make sure your property is ready for day to day business. Our experienced, licensed technicians work fast and accurately to repair the source of the problem, to avoid future problems and keep your property safe and comfortable for your employees and clients.
Reviews powered by Nearby Now
---
Bernard R.
Found variable speed blower motor not coming on. The system is a 2009 model Frigidaire (builder grade). I recommend replacement. Schedule Jody to come out and give options
Near
County Rd 2258,
Mineola
,
TX
75773
---
Daniel E.
Found the the airhandler to have a bad blower motor that is intermittently shutting down causing a loud rumble as it turns off and on . I recommended it be replaced which customer agreed to . I replaced blower motor with ecm truck stock replacement motor and system is back to normal operation. Customer would like to have a receipt mailed to her
Near
Co Rd 2425,
Mineola
,
TX
75773
---
Aaron H.
Found bad condenser fan motor possibly damaged by bad capacitor new capacitor is still reading good replaced fan motor at homeowners request tested system everything is operating properly 1 yr parts and labor warranty no charge if motor has issues unless after hours or weekends only diagnostic will be charged 63 or 200 if after 7pm
Near
Hogg St,
Mineola
,
TX
75773
---
Michael A.
Upon arrival, customer informed me that contractor on condenser had been replaced approx. 2 months ago. Checked air handler, blower wheel was clean, capacitor was good, coil was pretty clean, changed customer provided filter. Rinsed condensing unit, volts/amps within range, refrigerant level is good. Unit is operating properly at this time, no issues found.
Near
FM 49,
Mineola
,
TX
75773
---
Michael A.
Upon arrival, checked air handler. Blower wheel and coil clean, volts/amps within range, but noticed customer did not have a drain line float switch. Rinsed condensing unit, capacitor was low, refrigerant level was good. Replaced capacitor, and installed float switch, and customer opted in to ESA. No other issues found. Filter good.
Near
Co Rd 2425,
Mineola
,
TX
75773