Maintaining desired levels of comfort at home or work is impossible without a healthy plumbing system. From leak-free properties and properly flowing sewer lines to reliable kitchen appliances and hot showers, the right plumbing system can keep you from dealing with numerous plumbing headaches.
C. Woods Company is the go-to plumbing company in Longview TX and surrounding areas. Whether your faulty water heater needs repairs, your bathroom is overdue for an upgrade, or your drains or sewer lines need cleaning, you can always count on our fast and reliable plumbers to do the job right the first time. We're ready to tackle even the most difficult plumbing challenges.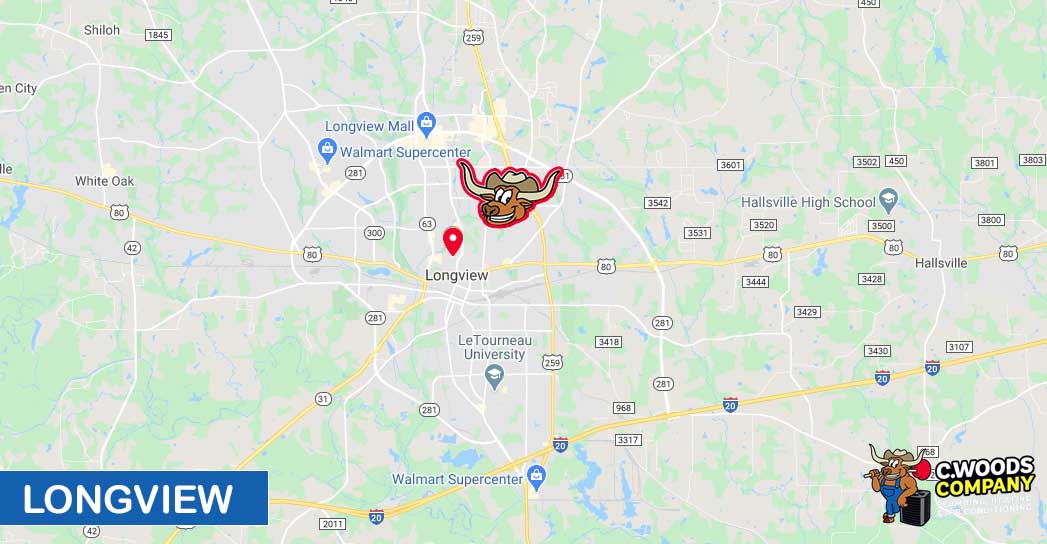 Read our reviews and learn why our customers have trusted us since 1956.
Signs You Need Clogged Drain Repair Services
Don't wait until a drain is completely clogged to give it the attention it needs. Professional drain cleaning can reduce the need for repairs and prolong the life of your plumbing equipment. Here are a few ways to determine if it's time to schedule a drain cleaning:
Water draining slower than usual.
Standing water in your sink, washing machine or shower.
An unpleasant smell from your drains.
Unusual noises when you turn on the sink or flush the toilet, for example.
A sudden increase in the number of fruit flies.
While there's no harm in cleaning a clogged pipe yourself, DIY methods are often inadequate or short-term solutions. Some methods may be effective at removing minor clogs, but without skilled expertise, you're never sure if the problem will recur.
Common Water Heater Problems
Being in the plumbing and HVAC industry for so many years, we've had the opportunity to fix a wide range of water heater problems in Longview. Some of the most common problems you may experience and we can help with include:
Water temperature is too hot or too cold
The water heater is making strange noises
No hot water
How water heater leaking
Rusty colored water
Not enough hot water
Water takes too long to reheat
Take advantage of our coupons to save on your next service.
Emergency Plumbing Repair
If you're dealing with a plumbing emergency or just looking for a 24-hour plumber you can trust, C. Woods Company is always ready to help. We have the experts you need to fix your problem right away. Our licensed professionals are highly experienced and available 24 hours a day, 7 days a week for all your plumbing needs. Our mission is to restore your plumbing as quickly and as effectively as possible so you can go back to your day-to-day activities uninterrupted.