When searching for an HVAC company, you want a company known for reliable service, quality work and competitive pricing. That's where C. Woods Company comes in. We have been offering comprehensive services to families and businesses in Longview, TX, and surrounding areas for over 60 years.
Our experts are licensed and insured to handle all your HVAC needs. Need to replace your old AC? Is your furnace due for a tune-up? We've got your back. You can count on us to ensure your heating and cooling systems are operating properly all year round.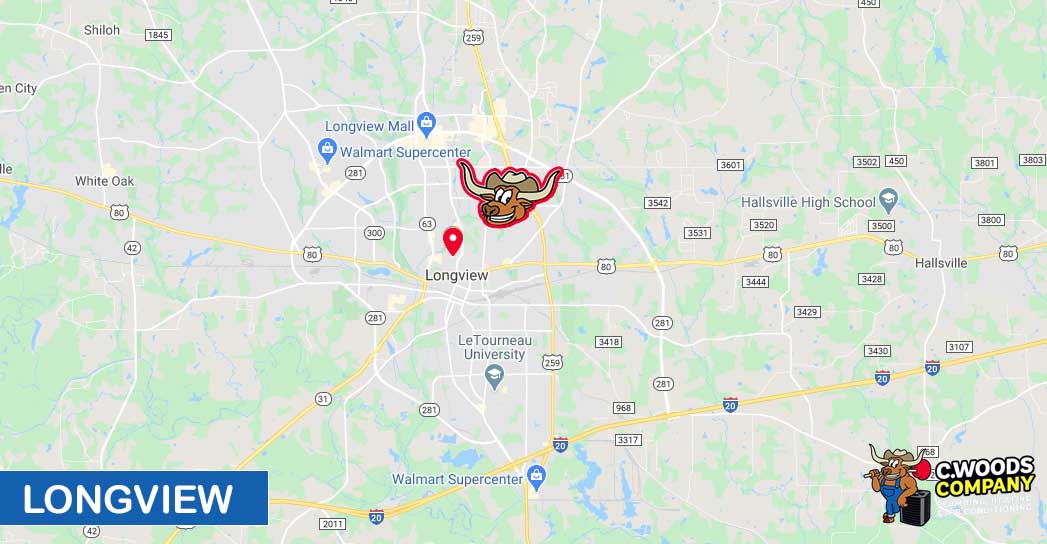 Read some of our reviews and find out why your neighbors trust us for their heating and cooling needs.
Reasons to Schedule for Furnace Repairs or Installation
The average person will have a hard time confirming exact issues with their furnace. Luckily, your furnace will display various warning signs due to broken hardware, components or parts. If you notice any of the signs below, call us for expert advice.
Pilot light is changing colors
Excess dust and dirt in the air
Furnace is producing odd noises
Carbon monoxide detector is activated
Our team will diagnose the issue and depending on the nature of the problem, explain your options before going ahead.
Benefits of Regular AC Maintenance
As spring turns to summer, you need to consider whether your cooling system can tackle the summer heat. Some of the main reasons to schedule AC maintenance before the summer arrives include:
Improved comfort
Fewer breakdowns
Cheaper repair bills
Lower electricity bills
Better air quality
Extended AC lifespan
A visual record of service to refer to
Check our coupons page for special offers and exclusive discounts on our services.
Emergency HVAC Service
Unfortunately, your heating or cooling system will always seem to break outside of business hours. Chances are you'll realize something's up on holidays, weekends or weeknights when service is harder to get. Our 24-hour emergency repair services make sure we're there for you when you need us most. Whether your system breaks down at 3 am or at midday, our team will be happy to get your system up and running in no time.
Having worked with heating and cooling systems of all types and ages, C. Woods Company is a popular resource for homes and businesses located throughout Longview and nearby areas.
Reviews powered by Nearby Now
---
Shawn S.
Upon arrival tech was shown backed up floor drain. Tech also found a butcher knife in bottom of drain. Removed butcher knife and ran small auger to clear drain. All drains are draining properly now.
Near

N Fourth St,

Longview

,

TX

75605
---
Marc B.
Tunnel under slab to access kitchen drain line // make repair with pvc // make sure drain is clear // use hangers on all pipe installed // test // backfill // cut out cast iron fitting and small section of pipe to make repair // replaced combo and app 4' of old cast iron pipe // installed 4 hangers to support pipe from sagging/ tested // ran small cable no leaks or stoppages/ // backfill //
Near

Dellbrook Dr,

Longview

,

TX

75604
---
Shawn S.
Upon arrival tech found clogged washer drain. Ran small auger to clear washer drain line which kitchen sink and dishwasher all tie into this line as well. Customer is aware tech can not warranty this unstop due to fitting that is improperly there. Sanitary tee from kitchen sink is going the wrong direction. Gave customer quote fix properly.
Near

Raney Dr,

Longview

,

TX

75602
---
Shawn S.
Upon arrival tech was shown clogged walk in shower. Customer washed dog and leaves and mulch went down drain. Ran small auger to clear mulch and leaves out of drain. Shower draining properly when tech was done.
Near

E Country Club Rd,

Longview

,

TX

75602
---
Shawn S.
Upon arrival tech found clogged washer drain line. Need to run small auger to attempt to clear. Tech ran small auger to clear washer drain line. Draining properly when tech was done.
Near

Arkansas St,

Longview

,

TX

75601