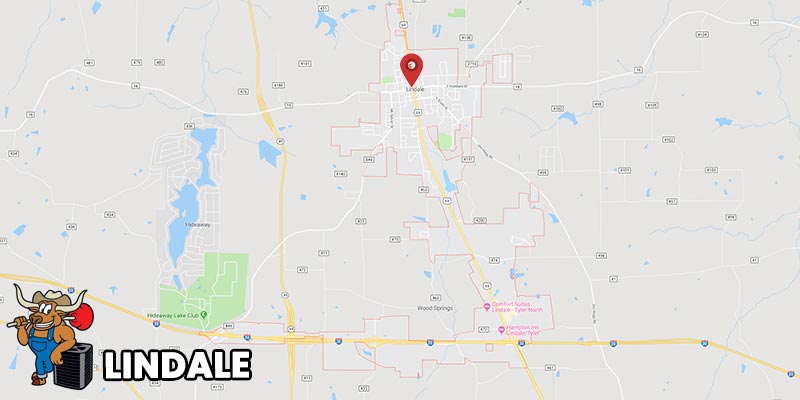 Being a homeowner is rewarding, but also comes with its own set of problems. When you need urgent plumbing, heating or AC repairs or just professional advice, C. Woods Company is the team to call.
We provide expert and award-winning service to our Lindale, TX neighbors, and pride ourselves on 24/7 care that you can rely on. Burst pipes, broken AC, and furnace troubles are common residential issues. Our team is trained and skilled to diagnose the problems you're facing quickly and affordably, with flat-rate pricing.
The Lindale community loves us! Read our customer reviews, then call for service.
Trusted Plumbing & Water Heater Experts
Waking up to a flooded bathroom, burst pipes, or no hot water is never fun. You can try to fix the problem yourself and possibly aggravate the situation. Or you can hire a professional local plumber who will get the job done right the first time at a price you can agree on. Our flat-rate pricing puts the control in your hands. C. Woods Company is available for your needs 24/7. Know what to expect by working with trusted experts and get your plumbing flowing properly today.
From water heater repair and replacement, to drain cleaning to gas leak detection, and everything in between, we have you covered for all of your plumbing needs.
Sewer Repair & Replacement
Plumbing Maintenance
Emergency Plumbing Services
Commercial Plumbing Services
And More!
Local Heating & AC Specialists
Climate control is one of the great inventions of the modern world. You can enjoy a house that's set to the perfect temperature for you and your family, even during the hottest and coldest months of the year.
C. Woods Company is the trusted source for Lindale heating and AC solutions. Our highly trained HVAC specialists provide cost-effective heating and air conditioning services to keep your home safe and comfortable. Whether you need AC or heating maintenance service, repairs, or a brand new unit installed, we have you covered.
AC Installation & Repair
Heat Pump Services
Furnace Repair & Replacement
Heater Repair & Replacement
And More!
Enjoy savings on your next service with our exclusive online coupons.
Commercial Plumbing & HVAC Services
For a business owner, plumbing, heating and cooling troubles can be some of the most stress-inducing issues when left unresolved. At C. Woods Company, we understand the struggle it can be to run a business and have any type of problems arise. That's why it is so crucial to have a team you can trust on your side to handle any issues on the spot and get the work done right the first time. As your trusted local commercial plumbing, heating and air conditioning contractor, our goal is to save you time and money. Let us help get your property back to its safe and comfortable state ASAP.
Reviews powered by Nearby Now
---
Mark M.
Found system on high pressure lockout on arrival. Reset board to clear code and turned system on. Refrigerant charge good and electrical components. Could not duplicate fault at this time. Added ecm motor surge protector estimate per customer request that was left from last inspection. System running properly at this time.
Near

Hannah Circle,

Lindale

,

TX

75771
---
Shawn S.
Upon arrival tech founds kitchen sink and washing machine line clogged. Tech ran small auger through outside cleanout of kitchen sink. Everything draining properly once tech was done.
Near

Jeffries St,

Lindale

,

TX

75771
---
Ryan H.
5 ton 17 seer vertical heat pump Conditional parts and 1 year labor warranty**Purchaser must maintain the equipment in accordance with the service requirements set forth by the manufacturer to keep this warranty. Evidence of proper service(by Licensed technician) must be presented by owner in the event a of a claim. Must be serviced yearly. No warranty on Freon, Filters and Drain. Change batteries in
Near

County Rd 323,

Lindale

,

TX

75771
---
Michael K.
Pull p trap under kitchen sink and run snake to unstop the kitchen drain line, ran snake about 30' before the line unstopped. Pulled back grease stoppage. Put the p trap back together and ran water on hot for 15 min to make sure it was unstopped. Everything is flowing and working properly at this time
Near

E Park Dr,

Lindale

,

TX

75771
---
Aaron H.
Found bad outdoor Txv on 4 year old system customer approved repair part ordered
Near

County Rd 452,

Lindale

,

TX

75771