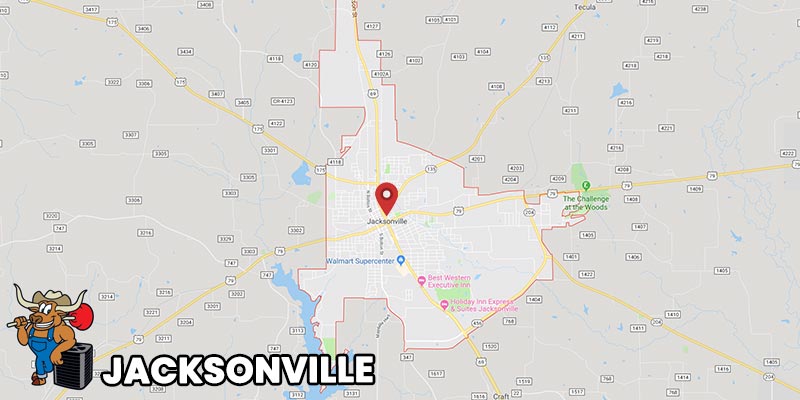 Whether you have a leaky pipe, a clogged drain, broken air conditioner and dirty furnace filter, having access to a reputable service provider makes all the difference. At C. Woods Company, we provide the residents of Jacksonville, TX with exceptional AC repair, heating services and residential plumbing solutions all year round. No matter what the problem is, we are available 24 hours a day to help. We serve both residential and commercial customers.
Learn what others in your area have been saying about our wide range of services when you visit our reviews page now.
Dependable Heating and AC Services
When your heater or air conditioner breaks down at the most inopportune moment, it can leave you scrambling for a solution. At C. Woods Company, we provide quality furnace repair and installation, as well as AC repair and installation, depending on what you need. We will replace your filters to keep your systems running smoothly, make minor repairs or replace your furnace or air conditioner entirely.
Some of the signs of AC or heater trouble include noisy operation, reduced air quality inside your home, increased energy bills and poor communication between the thermostat and heating or AC unit. If you notice these or other signs, give us a call right away.
Expert Residential Plumbing & Water Heater Service
Plumbing issues can range from something as small as a pinhole water leak, to something as big as a gas line leak or burst pipe. When you call us to deal with your plumbing problem, we will show up on time, any time of day, and we won't stop working until you are satisfied. Things like slab leaks and sewer line breaks have the potential to cause massive amounts of water damage, so when you see signs of trouble, don't hesitate to call.
C. Woods Company is also experienced in water heater repair and installation. Some of the signs of a damaged water heater include cold blasts of water during a hot shower, discolored water in your house and a leaky tank. When you call for service, we will show up as soon as possible and make the necessary repairs, or suggest a replacement if that's what is needed. We may also suggest a tankless water heater to add to your comfort and convenience.
Visit our coupons page to discover a range of discounts and specials.
Commercial Plumbing, Heating and AC Experts
Did the AC go out in your commercial property on the hottest day of summer? It is important to act fast and call a professional indoor maintenance contractor to keep your employees and guests comfortable. Not resolving the issue right away can result in unhappy employees, loss of business, and ultimately can negatively affect your bottom line. The team at C. Woods Company understand the importance of keeping your plumbing and HVAC systems in check. So whether it is an issue with your air conditioner or heater, or you need immediate toilet repair, or anything in between, our expert technicians are standing by ready to help.