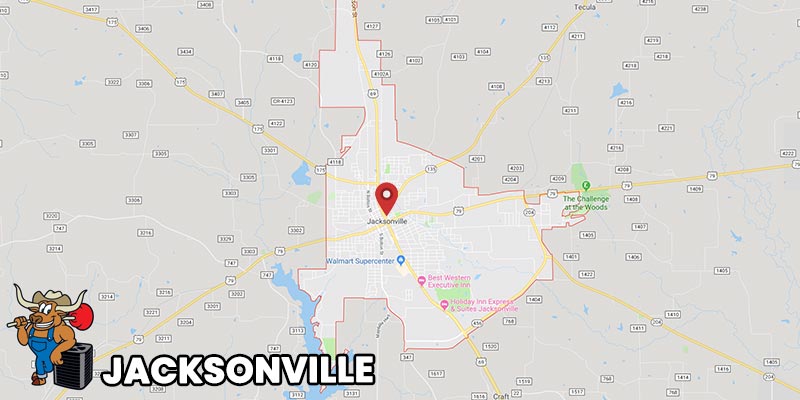 Whether you have a leaky pipe, a clogged drain, broken air conditioner and dirty furnace filter, having access to a reputable service provider makes all the difference. At C. Woods Company, we provide the residents of Jacksonville, TX with exceptional AC repair, heating services and residential plumbing solutions all year round. No matter what the problem is, we are available 24 hours a day to help. We serve both residential and commercial customers.
Learn what others in your area have been saying about our wide range of services when you visit our reviews page now.
Dependable Heating and AC Services
When your heater or air conditioner breaks down at the most inopportune moment, it can leave you scrambling for a solution. At C. Woods Company, we provide quality furnace repair and installation, as well as AC repair and installation, depending on what you need. We will replace your filters to keep your systems running smoothly, make minor repairs or replace your furnace or air conditioner entirely.
Some of the signs of AC or heater trouble include noisy operation, reduced air quality inside your home, increased energy bills and poor communication between the thermostat and heating or AC unit. If you notice these or other signs, give us a call right away.
Expert Residential Plumbing & Water Heater Service
Plumbing issues can range from something as small as a pinhole water leak, to something as big as a gas line leak or burst pipe. When you call us to deal with your plumbing problem, we will show up on time, any time of day, and we won't stop working until you are satisfied. Things like slab leaks and sewer line breaks have the potential to cause massive amounts of water damage, so when you see signs of trouble, don't hesitate to call.
C. Woods Company is also experienced in water heater repair and installation. Some of the signs of a damaged water heater include cold blasts of water during a hot shower, discolored water in your house and a leaky tank. When you call for service, we will show up as soon as possible and make the necessary repairs, or suggest a replacement if that's what is needed. We may also suggest a tankless water heater to add to your comfort and convenience.
Visit our coupons page to discover a range of discounts and specials.
Commercial Plumbing, Heating and AC Experts
Did the AC go out in your commercial property on the hottest day of summer? It is important to act fast and call a professional indoor maintenance contractor to keep your employees and guests comfortable. Not resolving the issue right away can result in unhappy employees, loss of business, and ultimately can negatively affect your bottom line. The team at C. Woods Company understand the importance of keeping your plumbing and HVAC systems in check. So whether it is an issue with your air conditioner or heater, or you need immediate toilet repair, or anything in between, our expert technicians are standing by ready to help.
Reviews powered by Nearby Now
---
Ray A.
Remove existing black iron nipple and union Tee off to run high pressure poly line 30 ft and 1 inch to a generator setup with redtop valves before tee and at generator with 2 pd regulator at generator. *we are not responsible for landscaping
Near

County Rd 3131,

Jacksonville

,

TX

75766
---
mack.ryan1610@gmail.com
Replaced inverter board on Bosch heat pump as well as disconnect. Went through startup cycle and tested in both heat and cool modes. Psi 134/360 @11 degrees sub cooling. No other issues found with system function. Cp-8.3a cf-.8a.
Near

Co Rd 4120,

Jacksonville

,

TX

75766
---
Daniel L.
Replace Laundry Hose Bibs Standard (Pair) Replace hot & cold valves - when each arrived the stops for the washer and dryer were leaking, the water meter is located like 3 blocks away in some field so they have to call the city whenever they need their water turned off so techs had to wait for the city to turn the water was off we removed the old stops and replaced them with compression stops and new stainless washer hoses once those were installed we got the water turned back on and checked for leaks, there were none at this time When the tech went behind the building to look for a shutoff he found a leak on a crimp coupling out back so we repaired that as well, we cut out the leaking coupling and replaced it with a length of 3/4 viega attached with male and female couplings at each end. We checked this for leaks when we turned the water back on and there are none at this time Standard Washer Machine Hoses (Pair) Replace Remove Old Hot & Cold Washer Machine Hoses And Install New Hoses
Near

N Jackson St,

Jacksonville

,

TX

75766
---
Daniel L.
Plumbing Diagnostic Minor - troubleshoot tankless Water heater. No hot water is the issue. - Called tech support. Tech support states to check the flow turbine inside the cold inlet port. That if the turbine is dirty to clean and reinstall. Then check to see if the unit will fire. After I pull the turbine out it did have a little build up on it. Turbine was cleaned and reinstalled. Then the unit was tested for fire. The unit is now working properly. Tech support did state if the issue begins to happen again. The turbine flow sensor should be replaced.
Near

FM 1910,

Jacksonville

,

TX

75766
---
Daniel M.
Toilet in master bathroom is clogged and won't flush. Tech will run closet auger through toilet and attempt to clear toilet. Ran bull augur down master bath toilet and freed a solid obstruction. The said their grandchild may of flushed a toy. Toilet is running as it should at this time
Near

Dorothy St,

Jacksonville

,

TX

75766