Texas is known for its harsh summer temperatures and chilly winter days aren't uncommon in the Chandler area. That's exactly why your AC and furnace systems are so important and why you don't want to go without them for even a day. Just one day without AC in the heat of summer could leave you with nearly unlivable temperatures through your home. At C. Woods Company we specialize in AC and furnace repair and maintenance, and offer 24-hour HVAC repair to get your home running properly again, even when other companies aren't around. We put your home first - and guarantee your satisfaction with every service.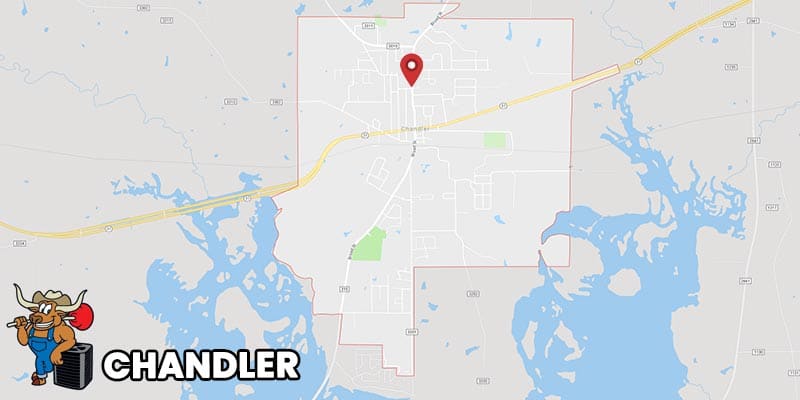 Don't just take our word for it. Visit our reviews page and let our past customers speak to our work quality.
What Emergency AC Repair Means for You
There's no way to predict when your AC system is going to have a problem, but if it's summer there's a good chance it will be hot outside when something happens. That's why having access to emergency AC repair is so helpful. We can send someone to your home for air conditioning repair on weekends, during holidays, and even in the middle of the night if you need us.
It's also important to look out for common warning signs that something is amiss with your system. This can range from:
Poor indoor air quality
Excess dust
AC that cycles on and off
Little to no airflow
Fluctuating temperatures
When your air conditioner isn't working as it should you'll notice the difference. As soon as you detect it, be sure to get the help you need to avoid costly AC emergency repair services.
How Furnace Tune-Up and Maintenance Saves You Money
Even though it's warm for most of the year in Chandler, there are months when you'll need to run your furnace. Over time your system will need maintenance and repair to avoid damage and ongoing issues. Working with us to get furnace tune-up and maintenance services will keep your system clean, and help prevent major problems from occurring.
Dust will clog up your system if it isn't removed regularly, and that leads to overheating, inefficient operation, and other problems. Regular maintenance will help keep preventable problems from occurring, while also extending the lifespan of your system. Because your furnace is not always in use, it's important to keep up with maintenance to avoid major issues.
In the event your furnace is beyond repair, and new system installation is needed, our furnace contractors can help. We offer expert installations and can help you choose the right system for your home.
Best of all, we also offer help with financing, so be sure to ask our staff about your options.
Don't Panic With Our 24-Hour Services
It's easy to panic if you have a serious heat or AC failure and your home is getting colder or hotter. You might even feel helpless or be calling different companies frantically trying to get help. When you work with C. Woods Company you can expect a live response 24/7. Whether a simple repair can get your home back up and running or you need a complete AC installation, you can count on our technicians to get the job done quickly and effectively.
Reviews powered by Nearby Now
---
Shawn S.
Upon arrival tech was shown that cartridge is bad on tub faucet and customer has cartridge and trim kit to be installed. Kit customer had was not the Right style for existing mixing valve. Customer just wants old faucet rebuilt for now to. Stop dripping faucet. Rebuilt old delta single handle faucet.
Near
Harrell Dr,
Chandler
,
TX
75758
---
Shawn S.
Upon arrival tech found wet spot around ac unit. Went under house to make sure leak was not coming from underneath. Dug up spot by ac unit and found old g coupling on 3/4 galvanized line where pipe was cracked and leaking. Repaired leak by removing old g coupling and cap and cleaned up galvanized pipe and put on g coupling with brass nipple with cap. Explained to customer that this is a temporary fix and no warranty on this repair due to the shape of the galvanized pipe. She is planning on selling in January so just wanted to try to patch until then.
Near
3rd St,
Chandler
,
TX
75758
---
mack.ryan1610@gmail.com
On arrival homeowner informed that system was not keeping up and she had noticed water. Found tripped ss2 with primary stoppage. Cleared with nitrogin and flushed 3 gallons water to ensure drain was clear. Checked split in home- r 78 sup 57 19 degrees differential. No other issues found with system at this time.
Near
Royal Dr E,
Chandler
,
TX
75758
---
Eason A.
- drain and remove old water heater - install electrical disconnect to bring up to code - install flood stop on cold water to bring up to code - install pan under water heater to protect floor from damage in case of failure - we may need to remove shelf above water heater to make new one fit - any unforeseen will be additional - customer will need to get plug installed for flood stop if they don't want it to only run on battery power - 1 year warranty labor - 6 year manufacturer warranty Install new 40 gallon water heater with flood stop and new electric disconnect, had to remove door trim to install not responsible for putting back door frame
Near
Westwood Dr,
Chandler
,
TX
75758
---
Bernard R.
Performed spring ESA on a/c system. System condensating is normal. System is cooling at this time.
Near
3rd St,
Chandler
,
TX
75758