The Importance of Clean Air
Clean air is vital to our survival--each year, over 6 million people die early from air pollution and health conditions related to air pollution. While here in Tyler we're blessed with pretty good air quality, there are urban areas around the world with serious air pollution.
Clean air is important for our health, and trees are partly to thank for our good air. In fact, this month, May 16th, is National Love a Tree Day! This month, we wanted to share this holiday with you and explore the value of trees and why we need clean air.
The Benefits of Clean Air
Air pollution can damage the respiratory system, heart, and lungs, or can lead to health issues like asthma, emphysema, bronchitis, and even cancer.
On the other hand, clean air has many benefits, including adding at least half a year to one's lifespan and preventing chronic lung conditions.
Trees help to remove carbon dioxide from the air during photosynthesis, which forms carbohydrates for the tree and then returns oxygen back into the air.
Tree leaves also absorb other air pollutants like sulfur dioxide, ozone, nitrogen oxides, and particulates. A fully grown tree can absorb 48 pounds of carbon dioxide in a year! Trees are almost like nature's HVAC systems straining out contaminants in the air.
The Importance of HVAC Systems
Our world is polluted both indoors and outdoors. More than ever, we need trees to help the atmosphere, and HVAC systems to help our indoor atmosphere.
Clean indoor air can help with asthma and allergies, as well as reduce the amount of dust you inhale in your home. You can have cleaner lungs and improved digestion.
The Environmental Protection Agency surveyed North American homes and found almost all of them had indoor air quality issues: There were high levels of particles and bioaerosols like viruses, pollen, and dust in 86% of the homes. There were odors as well as possibly harmful chemicals and gases in 71% of the homes. For optimal health, especially if you live in the city or suburbs, an HVAC system can make a world of difference in the home.
Celebrate Trees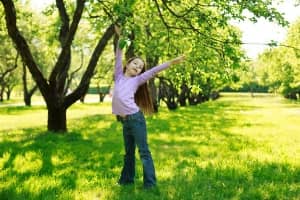 As you can see, without trees or HVAC systems we'd be in deep trouble. This National Love a Tree Day, resolve to show trees a little love. You could plant a tree, water trees outside, or just simply sit under a tree at the park and enjoy its beauty.
The very tree you care for or admire has seen so much history, so it can be fun to muse about what secrets it could tell. Trees are beautiful as well as functional, and they deserve to be treated well.
We hope you enjoyed learning about National Love a Tree Day, and ask that you call C. Woods Company today at (903) 593-0246 for any of your needs. Whether it's to fix a blown fuse or clean an HVAC system, your health is important to us, and we look forward to continuing to serve you.