Plumbing Services On Demand
Does the thought of replacing your home's plumbing system give you a headache? It's one of those things we try not to think about until we HAVE to. As in…. when it's finally too late.
Lots of people have emergency plumbing issues due to postponing regular maintenance, and from fear of hearing what it's going to cost them to repair any damage.
What if you don't have to wait anymore? Just like television and magazines, plumbing has turned to subscription services! What does that mean? Let us show you.
Rent-To-Own Plumbing Parts?
We offer "Rent to Own" services that allow you to finance pricey replacement parts so that the bill doesn't come as a harsh surprise. General 'rent-to-own' rules apply. You rent the equipment by paying monthly installments, with the option to purchase at any time!
Benefits of Rent-to-Own plumbing parts:
Safety and peace of mind: Long gone are the days when you had no idea how old your pipes were. 10 years? 30 years? Are they about to burst at any second? Fret no more.
Pay at your convenience: Financing options are always a nice alternative to have, especially when it comes to heavy purchases. Imagine repiping your entire home and only paying a fraction of it every month. Pay while you enjoy.
Company warranties: Pieces brought and installed for you by these companies oftentimes have extended or lifetime warranties. No more broken parts, and lost money, due to DIY inexperience and slipups.
Installation services: When you opt-in for a rent-to-own deal, installation services are often free or at a discounted price! We love free.
Plumbing Maintenance and Subscription Memberships!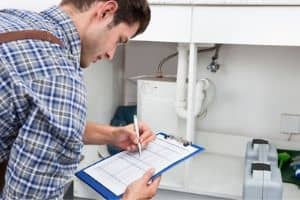 Just like a Netflix subscription, you can now have year-round, all-encompassing service for cheap. We offer subscription services that can come as a monthly or annual, membership that provides a list of benefits that'll be hard to turn down.
Most people hesitate at the thought of a monthly payment for something you might only need once a year… but it's one of those times when you'll be happy you have it when you finally need it.
(Some) Pros of Plumbing Subscription Services
Free annual inspection: An experienced plumber will come through and check for leaks or other troubles your plumbing might be having. Better to be safe than sorry, and catch minor issues before they become major issues.
Flushing of water heater: While, in theory, this process seems fairly easy to do yourself, it's always best to have a professional do the job right and with the right tools!
Service Discounts: Many plumbing services provide up to a 15% discount on repair and replacement services.
Priority Service: When you're a member, your name goes to the top of the list. Get your services first, don't wait for that mysterious leak to keep growing.
No Overtime Charges: Sometimes large repairs take longer than expected. With a membership, you don't have to worry about overtime charges.
No More Surprise Plumbing Emergencies
Just as you take your car for regular maintenance, your home's water heating and plumbing also require a little TLC (tender, love, and care).
With subscription services of regular maintenance for your plumbing, you are less likely to find yourself in an emergency repair situation. Our professional plumbers will ensure that your machinery is working at full capacity all year round, lending itself to fewer breakdowns or surprise leaks and ruptures.
Call us today at (903) 593-0246 to see which membership plan is right for you and your family. Never worry again about the state of your home's plumbing, we'll take care of that for you.