Outdoor Plumbing Fun for the Longest Day of the Year
The longest day of the year is always a great day. The official start of summer and the most daylight of the year makes June 21st a day to celebrate and enjoy.
With the kids on summer vacation and lots of daylight and warm weather, it's the perfect time of year to spend as much time outdoors as possible.
Do you have special traditions to help you celebrate this day? Or any plans or events to help commemorate the summer solstice? If not, we have few family-friendly water and outdoor activities that you might want to try with your outdoor plumbing!
Utilize your Sprinklers
Having fun running through and playing with sprinklers is a timeless activity for good reason. Playing in the sprinkler is an easy and fun way to enjoy cooling off and having fun outdoors with family and friends.
It also has the added benefit of watering your grass and yard. A definite win-win. If you want to get really fancy, you can try to make a water slide or to incorporate some toys to have a DIY splash pad.
Just remember to keep moving the sprinklers so you water the whole yard and don't just drench one spot. If it isn't already, this will soon become one of your family's favorite outdoor activities!
A Good, Old-Fashioned Hose Fight
Another simple way to enjoy the day is a hose fight. This will keep kids happy and active and will cool you off very quickly (it might even get you a little too cool).
Once you're already soaked, it might be a good idea to have a water gun fight instead. Unlike a hose fight, a water gun fight will help you save on your water usage and will allow lots of participants.
This might even provide your family with hours of water fun. Whether it's a hose or water gun fight, a friendly water battle can be the perfect way to get the whole neighborhood outdoors and having fun this summer.
Water Balloon Showdown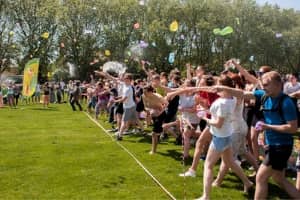 A water balloon fight can be a particularly special family activity and a great way to bond and build some special memories. Just get a few buckets of balloons, divide into teams and have at it.
This will keep everyone cool and moving even on the hottest of summer days. Plus, this is a great activity to grow into a longstanding family tradition with established rivalries and good competitive fun.
Making it even easier to pull off, there are some easy-to-fill water balloons that are quick and simple to make. And, you might even find that your kids have as much fun filling the balloons as they do, participating in the water balloon fight.
As you plan your outdoor activities this summer, you will want to consider water conservation. It's important to try to save or reuse water as much as possible. But, with that in mind, get outdoors and take advantage of your outdoor plumbing to enjoy some family-friendly, low-budget outdoor activities. After all, there's only one longest day of the year.